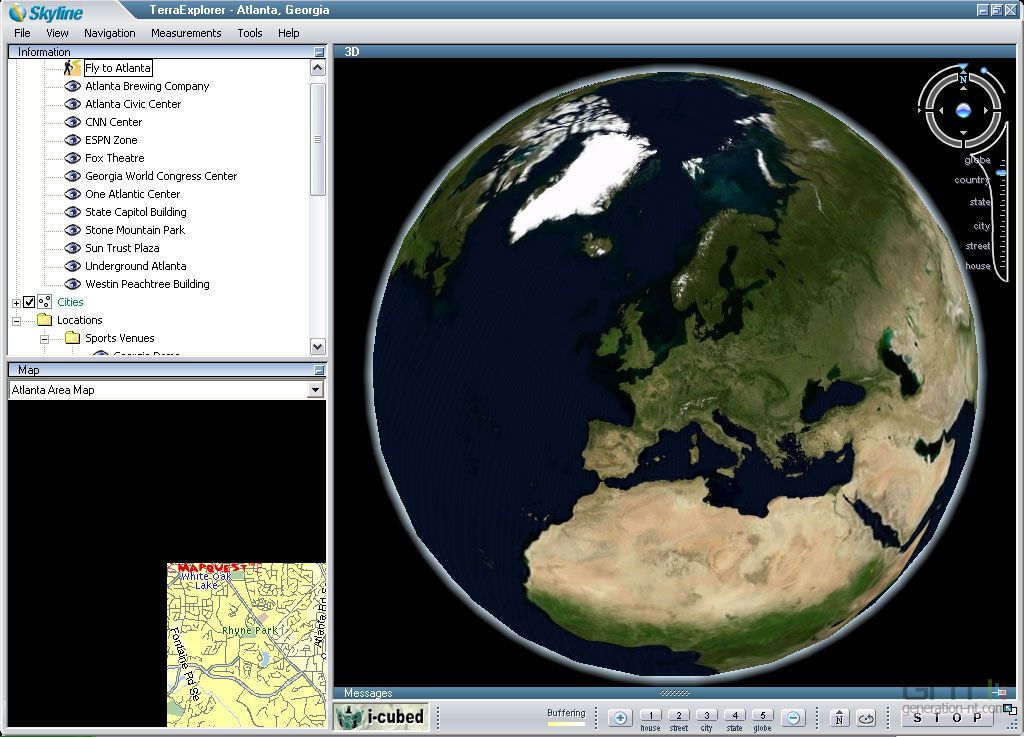 O TerraExplorer permite que os usuários voem por sobre algumas cidades do mundo, em um ambiente 3D. O programa possui fotos reais dos locais e permite alta interatividade com os usuários.
Este programa exibe paisagens reais e detalhadas das cidades sob qualquer ponto de vista ou ângulo. Há também a opção "Hot Links", que disponibiliza links sobre pontos das cidades para que o usuário acesse páginas específicas.
COMO USAR
A instalação do TerraExplorer não tem segredo. Basta executar o arquivo. Quando você executa o programa, aparecerá uma tela de introdução. Para começar a explorar as cidades, clique em "Click here to start exploring cities around the world". Na tela que se segue, você terá algumas opções. Clique em "Quick Guide" para ter um guia sobre as funções do programa. Clique em "City Guide" para escolher uma cidade para explorar.
Clicando em "City Guide", você verá uma lista com as cidades que você pode visualizar. As opções são poucas, 19 cidades, sendo que 15 delas norte-americanas. Escolha uma cidade e clique no botão "Fly".
Automaticamente, o TerraExplorer vai viajando pela cidade. Basta clicar com o mouse sobre a imagem para que ele se fixe. Movimente o mouse na direção desejada para que ele volte a se movimentar.
No lado direito da tela, você verá o mapa da cidade. À esquerda você verá dois painéis. O de cima, "Information", exibe os pontos mais interessantes da cidade vista. Clique em um deles e ele será exibido no mapa. O de baixo, "Map", é um mapa da cidade.
Um recurso interessante do TerraExplorer é o de medidas. Clique no menu "Measurements". Você verá cinco opções. Na opção "Query Information", você vai obter informações como localização Norte-Sul ou Leste-Oeste, além da altitude do ponto da cidade sobre o qual seu mouse estiver.
Escolhendo a opção "Horizontal Distance" e "Vertical Distance", você vai ver informações sobre a distância horizontal ou vertical de um ponto a outro no mapa. Clicando em "Measure Area", você delimita uma área do mapa e o TerraExplorer vai calcular suas dimensões.